Family Law Services In Sarasota
GET LEGAL HELP FOR YOUR CASE
Our Divorce Lawyers Are Here For You
Family law cases are civil cases involving parents, children, spouses, and sometimes extended family such as grandparents. Florida family courts handle a wide variety of cases involving domestic matters, including divorce, paternity, child custody, protection orders against domestic violence, guardianships, termination of parental rights, and juvenile matters. When you need an experienced family lawyer in Sarasota and the surrounding areas, you can count on the Kowtko Law Group. We will work with you through mediation, litigation, and any other necessary processes as we try to bring about the best results for you and your family. Contact us to get started and learn more about our firm.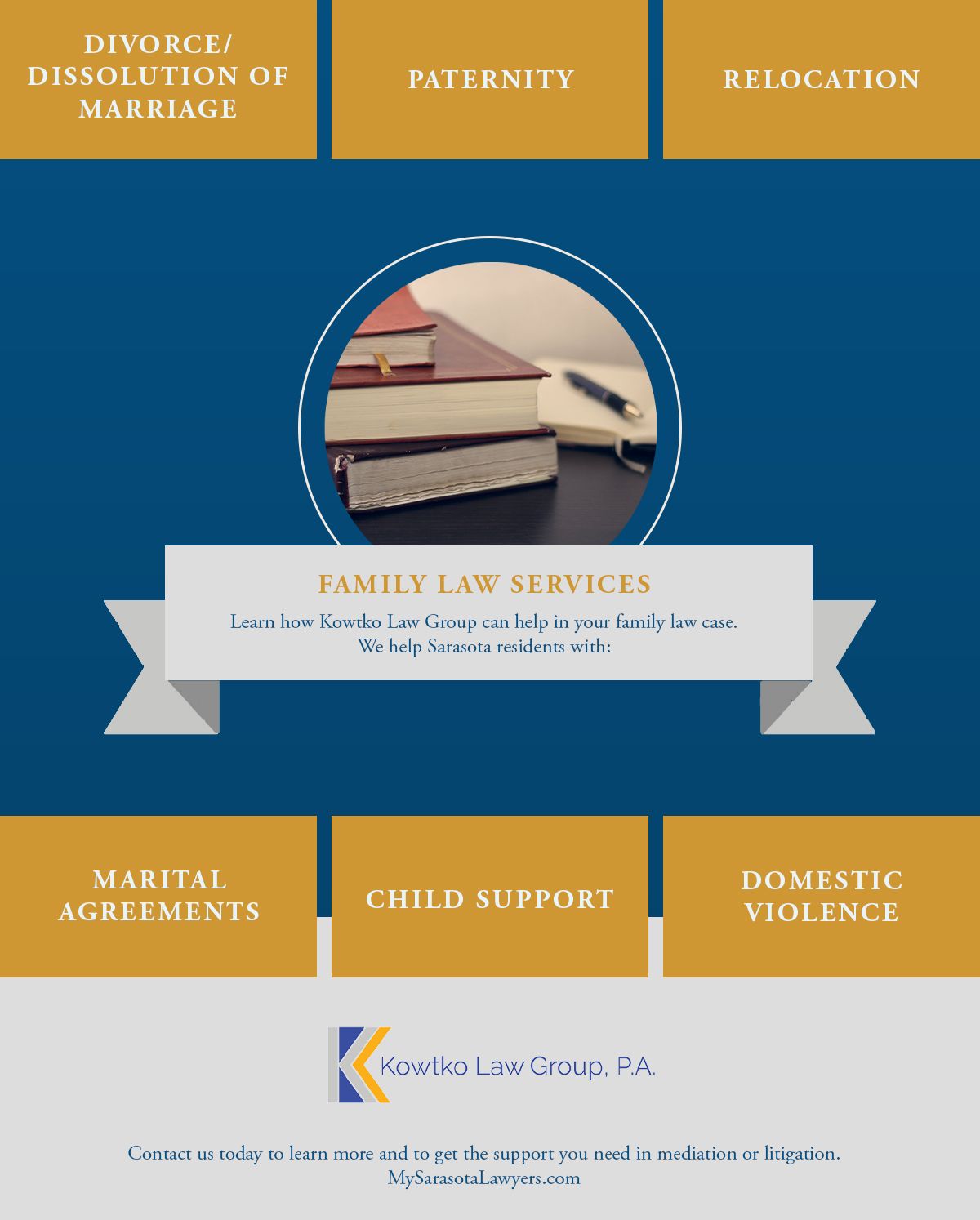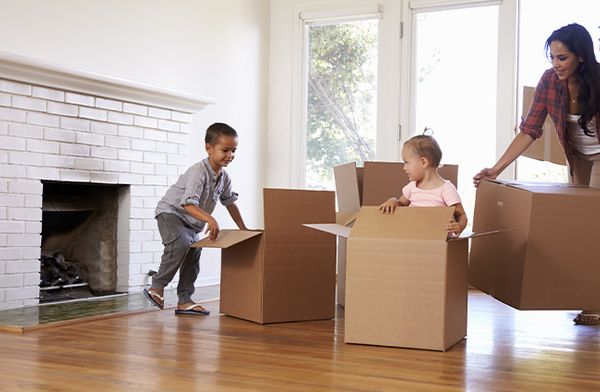 Some of the family law matters that we handle include:
Divorce/Dissolution of Marriage
Paternity
Relocation
Marital Agreements
Child Support
Domestic Violence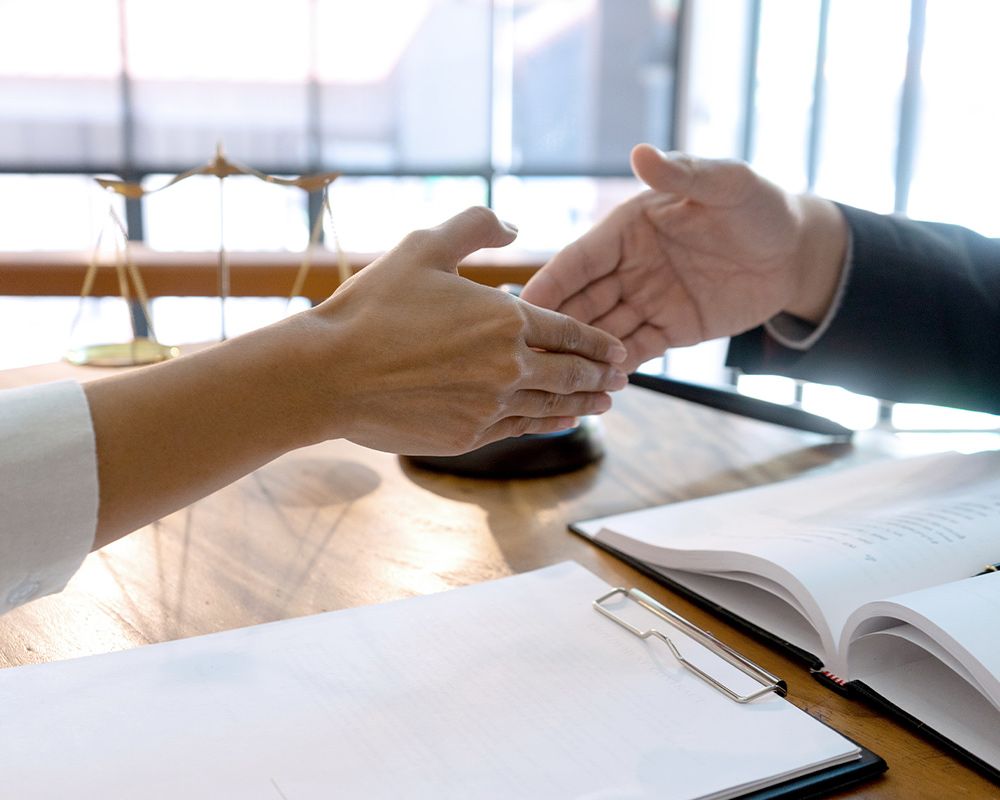 Finding The Best Resolution To Your Family Case
From the moment an attorney-client relationship is formed between you and the Kowtko Law Group, we begin formulating a case strategy based upon your individual needs and goals, followed by immediately drafting your case documents to be filed with the Court or sent to an opposing side. Our office will keep you well informed of all the deadlines, court hearings, any changes and/or progress throughout the entire process of your case.
Mediation
It is always preferable for the parties in a family law case to settle their issues out of court. In Mediation — which is required by statute in all Florida family law cases — or in pretrial negotiations, one side does not necessarily "win" over the other. If each party is willing and able to negotiate and both parties have reasonable expectations, the parties will be able to have input in the ultimate outcome of their case. Mediation and pretrial negotiations are preferable as the outcome is controlled entirely by the parties involved in the case, and the costs to the parties is often substantially lower than taking a case to trial. Our family law lawyers are seasoned negotiators with extensive experience in conducting hundreds of successful mediations, whether they are dealing with an attorney on the other side or an unrepresented opposing party, our lawyers are well equipped to aggressively negotiate the best outcome for your divorce.
Trial
If you and the opposing party do not come to an amicable resolution outside of Court or in meditation, the ultimate outcome in your case will be decided by the Judge. In a trial situation, preparation is key to obtaining the best resolution. Preparation for trial often includes taking depositions, preparing filings, working with experts (such as a Guardian ad Litem or financial experts), and preparing your witnesses for their testimony. The Kowtko Law Group stands ready and prepared to litigate your case in your best interest at trial before a judge.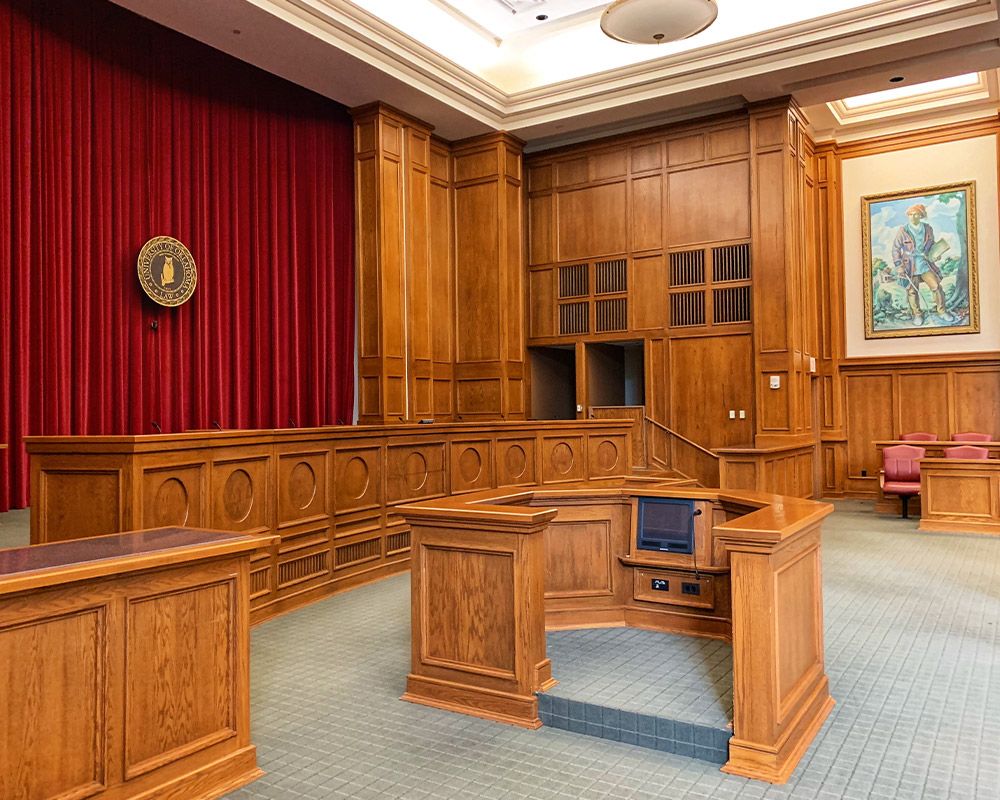 Settling Your Case
Most cases can be settled with out-of-court negotiations or during mediation. Oftentimes reaching a settlement to complex family cases may require both parties to receive thorough legal advice from their lawyers to ensure their rights are being protected. Many of the terrible stories people have heard about divorces, child support, mother's rights, and father's rights stemmed from one or both parties simply having unreasonable expectations. As such, having a prepared and knowledgeable family law attorney at your side who is able and willing to prepare you can often be the difference in having a successful resolution and an unnecessarily combative case.
Settling Out-Of-Court
In Florida, most family law cases will be ordered to attend mediation. Both parties and their respective attorneys will attend mediation with their clients and be able to work with their client on potential settlements. Leading up to the family mediation, our office remains in constant contact with you, specifically related to any new information that may affect the outcome of the case and what you should expect. Before mediation, we find that a diplomatic approach often gets our clients a much better result.
In most cases, finding an amicable resolution to your case is preferred; mediation and out-of-court settlements place you and the other party in control of the ultimate outcome of your case. This means that if you do not like a specific proposal by the other party, then you have the ability and right to offer a counter-proposal that is more preferable to you. If your case requires trial, then the Judge, not you and the other party, is in control of your case, often having to make decisions related to your finances and children without fully understanding your life.
Litigating Your Family Law Matter
Most cases settle at mediation or during out-of-court negotiations, but there are some cases where the parties cannot reach an amicable resolution, and some or all of the issues must be resolved by a Judge. In the event that out-of-court negotiations and mediation fail, our firm will prepare and file relevant pretrial requests to the Court (motions) to protect your and your family's best interests.
Preparing for trial requires a different approach than preparing for negotiations or mediation. Preparing for trial requires filing in-court requests, called motions, preparing you for the questions and procedures that can be expected, preparing any witnesses for your case, working with experts, deposing the opposing party's witnesses or experts, and a thorough review of all of the information provided.
In the event that your case must be litigated before a family judge, Kowtko Law Group will work with you to gather and prepare all the relevant facts and evidence needed to present to the Court to achieve the best possible outcome. Further, our firm will work with you to strategically prepare this information to present to the Judge. Our office stands ready and prepared to aggressively litigate your case to the best of your and your family's interests.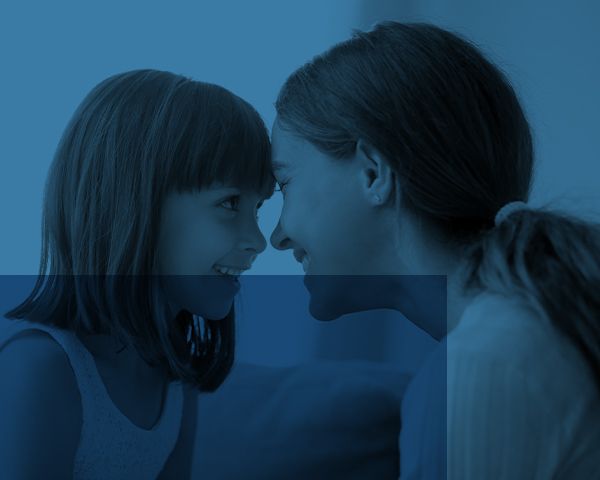 Parental Responsibility and Child Custody
The term "child custody" is no longer used in current Florida law. Instead it is referred to as "parental responsibility," and this is a term used to discuss who has the authority to make decisions for the child or children. Florida courts prefer that both parents share the responsibility for making decisions for the children, as it is widely accepted that having both mother and father involved in a child's life is in his or her best interest. Rarely do courts award "sole parental responsibility" which means one parent has the responsibility to make all the decisions for the child alone, without the other parent's involvement. This usually happens if the courts deem that it is not in the best interest of the child for both parents to share parental responsibility. However, the Court can still award time-sharing with the other parent as parental responsibility and time-sharing are treated as different issues.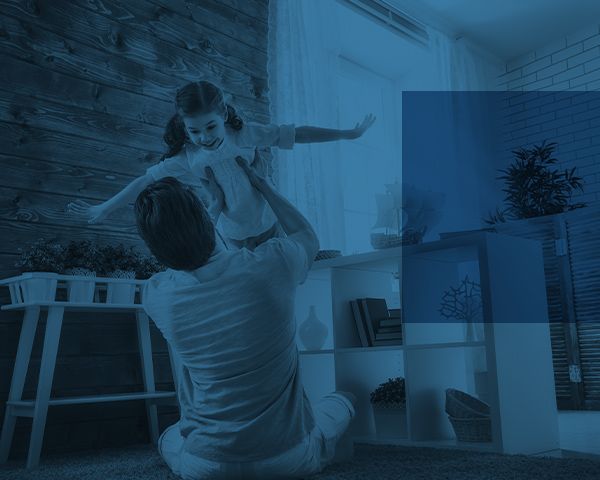 Time-Sharing Visitation
Time-sharing is the term used to discuss how the children spend time with each parent, Florida law no longer uses the term "visitation." Time-sharing is usually stipulated in a parenting plan which can be agreed upon between the two parents, either through negotiation or mediation. If the parents are unable to agree on a parenting plan, a Florida family judge will create and enter a parenting plan and time-sharing schedule the Courts deem is in the best interest of the child, which may include that children have regular and ongoing contact with both parents. According to Florida law, both parents are presumed to be able to "share the rights and responsibilities, and joys, of childrearing." Additionally, divorcing spouses with minor children are required by Florida law to attend and complete a state-approved parenting class before the judge can enter a final judgement of dissolution of marriage.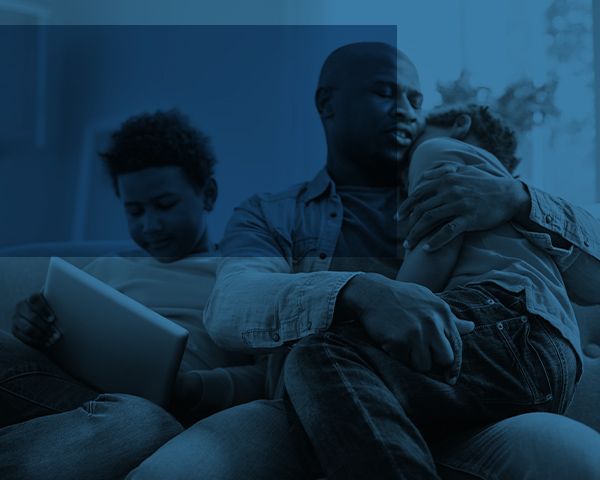 Parenting Plans
Couples with minor children who are divorcing will need to have a parenting plan. According to Florida law, both parents are supposed to "share the rights and responsibilities, and joys, of childrearing." Divorcing spouses can create a parenting plan together either by negotiation or mediation. Once parents have agreed upon a parenting plan, it will be filed with the courts for the judge's final approval.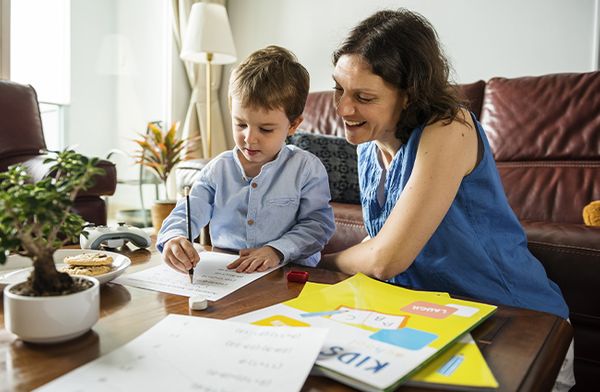 What is in a parenting plan?
Florida has specific court approved parenting plans. Parenting plans have to include:
How the parents will share the daily shores and responsibilities related to raising their child/children.
Which parent will be responsible for completing school and healthcare paperwork, among others.
Which forms of communication will be used for each parent to communicate with their children.
A time-sharing schedule.
If parents can not agree upon a parenting plan either through negotiation or mediation a Florida judge will enter a parenting plan for them based on the best interest of the child.
Contact Our Family Lawyers In Sarasota
Our office strongly believes that being prepared and having an attorney that is highly involved in your case is the best method for obtaining the most preferable result. Contact the Kowtko Law Group office today to schedule a no obligation, free consultation with a member of our team to find out how our office can help.